Images from the NDTV live shoot at Santhome
Cathedral.Barkha Dutt was quite a live wire on the show. But if 2 people at the show were to be chosen contradictors of the evening..I would hand out the awards hands down to Khushboo and Barkha Dutt.Barkha started the evening questioning Khushboo on the alleged pre marita affair statement and how she felt after the public reacted...and it was apparently meant To soothen Khushboo's nerves ... but Barkha started to repeatedly stay on the same topic refusing to budge ,before she again made that statement "we are not here to make this a khushboo episode and we will dwell upon other aspects of the chennai conservatism " and got down to it ..by asking Khushboo again ...and coming to the same old "virgin-sex" conversation ...and ya ..Khushboo couldnt have asked for more,She started playing to the gallery.Khushboo's contradiction was evenm worse...she did a total volte face...by saying that she doesnt like girls wearing sleeveless tops ... now this coming from a woman who made statements saying that pre-marital sex was pretty much normal (I agree with her premarital sex funda...but dont buy her other no-sleeveless funda ) .At this stage sense prevailed ..and Jayanthi Natarjan was allowed to speak and she was one of the speakers who actually made sense.All the others were not that impressive ...but how can I forget mentioning about Tamilisai ..the BJP candidate ..staunch female who represented Tamilnadu for just not what it is .That female in a gawdy jigana saree and a unkempt hair with a panic strikken pottu/bindi bigger than the ball irfan got his hat trick ..and one basketful of flowers on that kali like hair..who demeaned the evry existence of women ...by saying "we are afterall women " ..I pity the womenfolk that such a barbaric ,uncivilised lady represents and talks on behalf of them.
Overall it was a very mediocre discussion with a khushboocentric angle to the whole discussion.NDTV seems no different from the rest of the TV channels by just focussing on media attention and glamour and not on content.This was more of a platform for Khusbhoo to fight some emotional demons ..and not a fruitful discussion...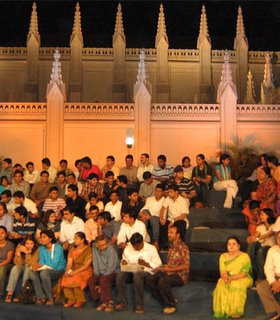 Images from
Barkha Dutts Show
on
NDTV
"we the people "
...atChennai .That's me watching the cameras roll just before the show got underway.I was at one xtreme end of the audience so didnt get my share of the NDTV Audience that went Live on TV.